Would you like an "out of the box" system that you simply add onto your Office 365 subscription, requires no servers, and can be configured to follow your businesses processes so you deliver consistent results to your customers time after time and have true visibility into your business?
Dynamics 365 for Small Business Sales CRM
$40/month
Dynamics 365 Small Business Sales and Customer Service
$65/month
Dynamics 365 for Enterprise Plan 1
$115/user/month
Includes these apps:
Dynamics 365 for Sales
Dynamics 365 for Customer Service
Dynamics 365 for Field Service
Dynamics 365 for Project Service Automation
+ Microsoft PowerApps and Microsoft Flow
Microsoft Dynamics 365 for Business provides all of this in several different modules:
Sales – the heart of Dynamics 365 – tracking all new leads and business opportunities, and account management and sales activity for your existing clients.
Service – track all support issues through to completion with your clients.
Marketing – execute lead generation campaigns and touches with prospective clients.
Finance – forget Quickbooks! Run your business financials, invoice your customers through Dynamics 365 Financials.
Business Process Flow
Integrate your existing business process in the Business Flow section from Qualify to Develop to Propose to Close, and each step of the way, certain items (Business Rules) you require at each stage must be entered, or else the system will not allow people to move to the next stage of your business processes.  You will know that if a sale is at a certain stage, all the items  you require to be done at prior stages are complete.
You may want to do such things as: 
Confirm number of employees during the qualification stage.
Confirm key decision makers.
Confirm the customer seems like a right fit.
Have a 2nd resource in your company review the proposal prior to presenting it to the prospect.
Send a thank you note after the meeting.
Have a follow up meeting.
All of the little items you want your team to follow consistently can be put into businesses process flows and business rules inside those processes to ensure you are getting consistency.
Business Workflows: 

When you add a new lead into your CRM, do you want it to automatically create an email for your review, completely filled out, and have it also generate a follow up task for you a week later? You can easily do this Dynamics 365 business workflows. Have Dynamics 365 take as much repetitive work out of your daily sales and service activities as possible to let your team focus on the highest value work they can do for your business.
Dashboard Visualizations:
Easily see where you are with what you care about in your businesses.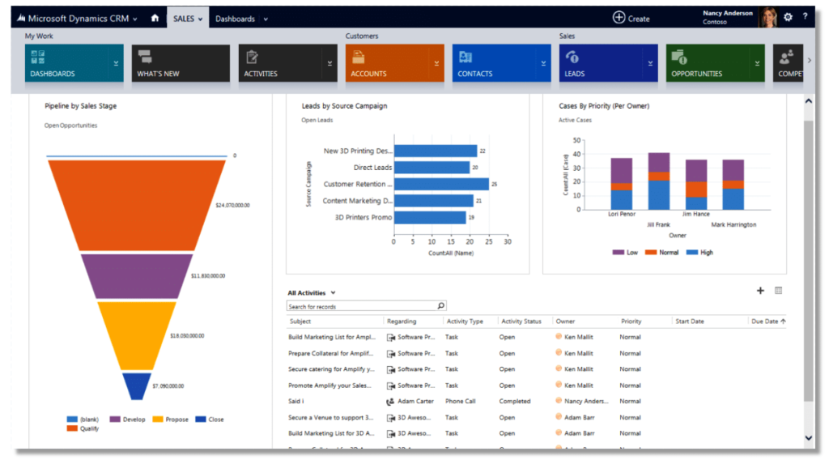 Easily Generate Business Documentation like Service Agreements and Quotes
Easily generate repetitive documentation with templates ready to go for your users around service agreements and quotes. Easily modify them at any time. Store them easily in Office 365 SharePoint Online account. HUGE time saver.