We'll Migrate Your Company Phone System to Microsoft 365 Business Voice
Microsoft's cloud-based business phone system integrated into Microsoft Teams by Xerillion's trained, certified, experienced professionals.
Go without hardware using the Teams desktop or mobile apps, or use a traditional desktop phone with a handset.
Watch my demo heavy video above on all the key features of the Microsoft 365 Business Voice System and how we set it up for our clients.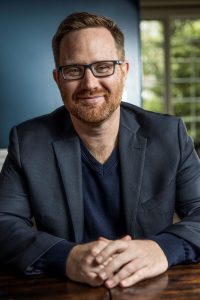 Easy, inexpensive add-on to a Microsoft 365 cloud-services system.
Domestic calling plan included.
Use a traditional desk phone with a handset, or the Teams desktop or mobile apps with a headset or earbuds.
Excellent sound quality (provided you have it installed by professionals...)
Highly reliable.
Integrates cleanly into a Microsoft Teams collaboration environment.
Voicemail to email transcription, call forwarding, call parking, conference calling, click to call.
Main number, direct-dial number, call extensions.
Teams shows "on the phone" or "in conference call" status.
Fill out the contact form on the right if you'd like to setup a time to discuss Microsoft 365 Business Voice for your company.
One of the best things I ever did in my company was switch to the Microsoft Phone System. For years Microsoft has had the ability to make and receive calls through Skype for Business, but they didn't have the key calling features like auto-attendants, call queues, ect.
In March of 2017, they finally moved the business phone system services into general availability and I pounced on it quick!
But a Little Background First….Maybe You Can Relate….
When we started Xerillion back in August 2002, we started out with cell phones, with our receptionist having "the main cell phone". Then in 2004 we stepped it up with a nice, "box on the wall"; an NEC phone system using 4 POTS (plain old telephone service) lines that felt much more "business-like" and I think cost us $4,000 at the time (HUGE when we were a 3 person company!) and about $200/month. It was actually a moment of pride that our little company could afford something that looked so professional on our desks.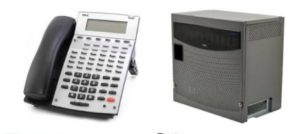 Flash forward about 6 years later and we had a senior engineer that was a big fan of the Digium Switchvox and in a previous job he had installed them. When he came to us he suggested we add phones to our IT practice. I was extremely hesitant (..hey, I was a server guy…), but the engineer was very persistent and ultimately we had a client that was up for giving the system a shot - knowing it was our first system, and if there were any problems or it didn't work well, we'd take it back.
It wasn't perfectly smooth and we learned some things, but ultimately we got it in place and working well for the client and it helped my confidence that we indeed could do phone systems.
After that we implemented our own Digium Switchvox and went from POTS lines to a T-1/PRI circuit - the Cadillac of phone service connections. It was never super expensive, and I think our monthly bill got up to around $400/month. The Digium system was like having a server in that we had licenses to purchase and that had to be renewed. We still had a "box on the wall". If we wanted to access this system remotely, we had to either make a "hole" in our firewall (highly NOT recommended) or make a VPN connection back to our office (what a pain…). The VPN worked OK -not great, but OK.

Our Beginning Stages of Moving to the Microsoft Cloud
In 2014, with the world of IT heavily moving to the cloud, we had moved many things into Microsoft Office 365. We no longer had an email server, or a file server, a backup and disaster recovery system, or a domain controller. The two Windows apps we did have we migrated to Microsoft Azure. Ironically we did still have our "box on the wall" phone system.
In 2016 we moved to Digium's cloud-based version of their phone system, The Digium Cloud PBX. The move was pretty painless and it worked well. We got rid of our "phone box on the wall" which was nice. Still, I always thought it was odd that our phone system was separate from the rest of our IT which was all in the Microsoft cloud.
Cue The Microsoft Phone System
So, in March 2017, when Microsoft announced general availability of the Microsoft Phone System (formerly "Cloud PBX"), I was very excited to add on those services to our Office 365 subscription. At the time we were using Office 365 E-5 (we now use Microsoft 365 E-5 - BIG difference), and both of those subscriptions INCLUDED the Microsoft Phone System. All we had to do was pick a calling plan and we were good to go!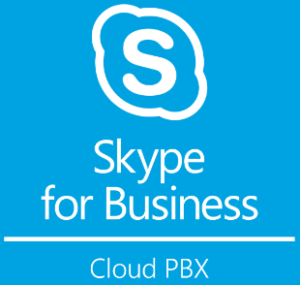 In May of 2017, we went through the process of prepping our network to migrate the Microsoft Phone System.
We configured our firewall (a Cisco Meraki MX64) for QoS and followed some recommended settings from Microsoft.
We opted to move away from desk phones and just use the Skype for Business app. We do have a few Polycom VVX 400 IP phones with firmware built for Skype for Business (a very specific SKU by the way - be careful) that we leave in our office for clients to check out - but 90% of people just opt to use the Window app; it is so much more convenient for many reasons I'll get into later.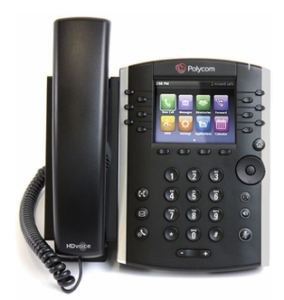 After testing the system ourselves, and getting our auto-attended and call queues going, we submitted the request through Microsoft's process to port over our numbers. The porting well pretty well - again, as we don't know what we don't know, there were a few minor glitches, but they were quickly resolved and we were "lit up" using our Windows computers with the Skype for Business app in our phone system
Results After Working with the System HEAVILY for the first 9 Months in a Call Center and Field Service Environment? P-H-E-N-O-M-I-N-A-L
Our data and voice systems are on a single platform and they feel "as one". With one login and one subscription in the Microsoft Cloud, we as a team have everything we need to do our work at Xerillion to service our customers: at the office, at home, on the road, on my Surface Pro, on my Samsung Note 8.
The Switch to Microsoft Teams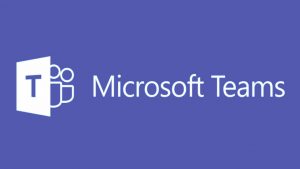 In November 2018, we switched our connection to the Microsoft Phone System from Skype for Business to Microsoft Teams. We knew Microsoft was on the path to phasing out Skype for Business and we had been heavily using Teams for internal chat channel conversations (the replacement to messy group emails in Outlook), and so we decided to get on with it and move the Microsoft Phone System to Teams.
Just using Microsoft Teams on its own for instant messaging, video conferencing, conference calls, desktop sharing, document collaboration and "presence" (i.e., knowing if someone is online/offline/in a meeting/away/OOO, ect.) is huge - but adding the phone system behind it and knowing if they are "in a call" - REALLY HUGE for productivity.
If I know someone is in a call and I have a hot item to deal with that involves them, I can take a shot at sending them an instant message. It also lets me know that I would probably be wasting my time to try and call them reducing useless work cycles.
In our configuration of the Microsoft Phone System - when people call in, it quickly announces they reached Xerillion and they will be transferred to a live attendant - this cuts out a lot of nonsense or wrong number calls tying up cycles for our staff. Then the system rings 5 people in our office simultaneously. When one picks up, the other people are notified who took the call with a little message that pops up at the bottom right of their screen.
If the person is looking to speak to me for example (I get a lot of unsolicited sales calls), she can pause the call, ring me and ask if I want to speak that person (or instant message me), and if yes, un-pause the call and send it over to me. Sometime if I'm in heavy "focus mode", and the receptionist rings me, I'll answer the "instant message" button and type back, "who is calling" and they type back who it is. BOY, I love that.
For our implementation, we do not use a call tree: "Press 1 for service, press 2 for sales, ect" but we could, we just chose not to.
My calls that go to voicemail are transcribed into text and then dropped in my mailbox. I LOVE taking those transcribed voicemails, opening it up and then replying back to the person by EMAIL!! HUGE productivity score!!!
Call Quality
Of course, people always want to know how the call quality is. I can tell you after 9 months of heavy HEAVY use, the call quality is outstanding. Some key things to know: make sure you have your firewall configured correctly. Ideally, try to get  a fiber Internet connection at your office, and wherever possible make an Ethernet hardwired cable your primary Internet connection. I know wifi has come a long way, but in an office or home office environment, you'll have the best call quality (and computer Internet access with less hanging) if you are primarily using a wired network connection.
For a few months I was accidentally using wifi all the time at my work office, and in our company I had the flakey connection - and I couldn't understand it. Ultimately one day an IT Pro friend of mine was talking to me and noticed my phone issues and asked if I was on wifi, and I said, no way, I'm wired. I then looked at my ethernet cable and saw it was disconnected! A few months back I had moved my desk around and forgot to properly plug my ethernet cable back into Surface dock, and thus my primary office connection was wifi. I plugged my computer cable back inin and the call quality was immediately much better and I haven't had a problem since. I also ended up running a hardwired connection at my home office.
Your Enterprise Voice and Data Goes Where Your Team Goes
The good news though is that your phone system goes wherever your computer or mobile device do. So, if you MUST use wifi - no problem. You will not have any VPN to deal with. You will just fire up your computer, get an Internet connection and access your phone system right away. If you want to use your smart phone, the Microsoft Teams mobile app will connect to the Microsoft Phone System and it works really well to. Even though I could call my office straight from my smart phone directly, I much prefer to just fire up the Teams mobile app, check on people's availability and then choose to either instant message them or call them from from Teams.
In fact, at Xerillion, we rent business access to our field engineer's personal cell phones and each field engineer has a direct business number in the Microsoft Phone System. They don't give out their personal cell phone numbers, they give out their office phone numbers. When someone rings their office phone, the Microsoft Phone System simultaneously rings their personal cell phone during business hours, and goes to voicemail after hours - works great and was a big hit with the team. Xerillion doesn't have to manage a cell phone inventory anymore, we pay for part of the employee's phone bill, and the employee can even call back using the Teams mobile app - not even use their actual personal cell phone number.
For our after hours calls that go to the on-call engineer, that was a touch more complex and we had to bring in a 3rd party for about $20/month as it involves emails, distributed text messages and ticketing, but it was a small price to pay and works well for us.
Jabra Headsets and Speaker Sets
When we originally migrated to this system, I thought most people will want a desk phone with a handset to work with, but I was surprised to see nobody cared about a desk phone and prefers to use Microsoft Teams. We chose Jabra as our headset partner to work with and we use the Jabra Evolve series.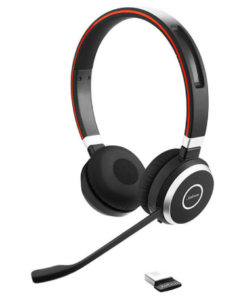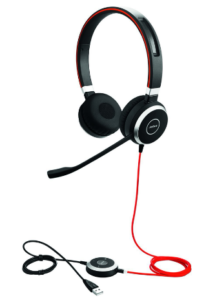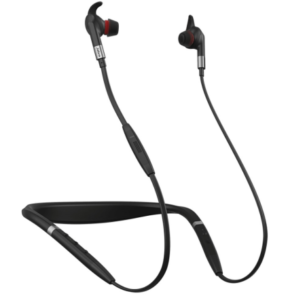 Jabra Evolve 65 (wireless)        Evolve 40 (wired)      Evolve 75e
I prefer a dual-ear configuration, but the headsets can also be ordered in single ear configurations.
I have an Evolve 65 as my workhorse at my work office. I have an Evolve 75 (not the 75e as in the picture) at my home office, and a Jabra 40 in my backpack for when I'm on the road.  The Evolve 75 (again, not the one in the picture) really seals you off from the world and does this by putting "negative sound" from your surrounding that cancels out background noise. This does work, but it also puts a type of "pressure" in my ears, which after a full day feels..oddly…fatiguing to my ears. So, I this is why I prefer the Evolve 65.
The Evolve 40 is my road headset and I connect by USB to my computer, or by a 3.5mm jack to my Samsung Galaxy Note 8. The audio quality even listening to music is excellent. I'm very happy with my Evolve 40 and it is the headset we get for our field engineers.
Note: the Jabra Evolve 65 and 40 have boom mics that flip up and snap securely into the headband by a small magnet, which then hide the boom mic and allow you to just relax on a plane ride listening to music, ect.
Lastly, the Evolve 75e, is what the people in the office (usually the ladies) prefer as it goes underneath the hair, and behind the neck, as opposed to over the head. I don't use it myself though.
The Jabra Evolve headsets look very cool and work well. NOTE - they do work with Bluetooth, but you'll like it much better with their USB dongle connected which provide much better voice quality and range over Bluetooth. ANOTHER NOTE: there is a specific SKU for these headsets for Skype for Business which involve the firmware in the headsets so be careful when ordering.
Then there is the issue of the conference room table. If you are just looking for a nice audio-only solution, we recommend the Jabra Speak series.

The Jabra Speak 810 is for big conference rooms for up to 15 people. The Jabra Speak 710 is for up to 6 people. You simply plug these speakers into your computer or your cell phone and away you go.
The Jabra 810 can be paired with another Jabra 810 by Bluetooth, with each unit at opposite ends of the table to create a very high quality conference room solution.
The Meeting Owl
Speaking of conference rooms, as of this writing we are about to test demo the Meeting Owl as our conference room solution. The Meeting Owl fixes a big issue: both audio AND video, and capturing video effectively of EVERYONE in the conference room. The Meeting Owl sits in the center of your conference table. The video that it captures is broken up into a few frames: one wide frame of everyone 360 degrees, and then 3 bigger frames at the bottom showing who it sees as the main speakers talking at that moment. It also handles all the audio as well. We are very excited about this system, and will update here after the demo. As our company grows with more and more people in different parts of the company or around the world, this is exactly the solution we need to bring people together.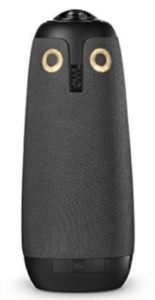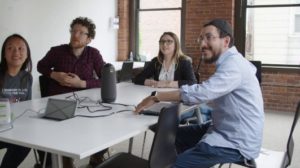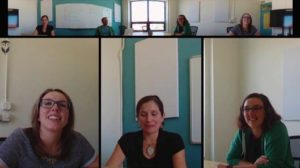 Easily Add The Best Talent You Can Find Anywhere In the World
A few other key things that the Microsoft Phone System that did for us was it made it VERY EASY to add people from anywhere in the world into our team. It recently happened that while looking for technical resource to add to our helpdesk team, I found someone from another country that was highly qualified, highly educated and very articulate. I simply lit up a subscription to Microsoft 365 and the Microsoft Phone system, and viola!, he was integrated right into the team very quickly! He has an excellent home office setup, and Internet connection and works for us full-time. The call quality is just like it is here in the US and he joins our morning meetings and any other meeting through Teams. As of this writing, we have 2 people on our team from different states, and 3 people working from different countries.
We now look to bring the best resources we can find from ANYWHERE IN THE WORLD……whoa…..just saying that gives me chills. And, it is true. Trying to find the best possible resource that has a bachelors of masters degree, has the experience and the certifications, has a stable work history, is a nice person, a clean background/drug check…..and just happens to live within a 30 minute commute of our office in the Chicago suburbs….come on….. Going 100% cloud and using the Microsoft phone system enables us to get the best people wherever they are.
Business Continuity/Disaster Recovery
Lastly, I want to talk about business continuity. We use laptops with video cameras, and cell phones connecting to data and voice services in the Microsoft cloud. We have minimal IT in our office. In fact, besides a firewall, a switch (for the wired connections), and a wireless access point, and a multi-function printer, there is nothing else in there. I LOVE THAT. Power goes out in the building? It has happened. We go home and work from home - exactly the same as when we work in the office. Building burn down? Hopefully not, but if it does, we'll work from home, exactly the same. Bomb hit a Microsoft datacenter? I doubt it, but if it does, our system will work the same as there are extreme amounts of redundancy in the system.
The Morale Booster & Productivity Booster
Want a big morale booster and see a company productivity increase? Setup all-hands-work-from-home days. You can do it when you move ALL your data and voice to the cloud. We have seen an INCREASE in our business measures since opening up the floodgates to work from home, not to mention the morale boost.
NOTE: important point on making business continuity and work from home "work". Do all of your meetings as online VIDEO meetings inside Microsoft Teams: your morning huddles, your project meetings - ALL OF THEM. I don't care if you and the other person sit 5 feet from each other - It is SO MUCH MORE EFFECTIVE to be at your desk, and jump into a video meeting - share your desktop, share a document, ect. then it is to pile into a conference room. AND, when you do this this, when parts or all of your team work from home, they work just as effectively as when they are on the office. DO NOT let people attended audio-only - so much is missed without the video.

Wayne Chapin
CEO & Enterprise Cloud Architect
Xerillion
847-995-9800